Relieves menopause symptoms
Reduces hot flashes & night sweats
Promotes a calm mood
TRU-ID® certified for ingredient authenticity
Menosmart+ helps to relieve (or reduce) symptoms associated with menopause, such as hot flashes and night sweats.
Menopause signals the end of a women's reproductive years and is typically marked by hormonal fluctuations that can lead to a variety of symptoms. The duration and intensity of menopausal symptoms is determined to a great extent by the overall health of each individual woman. In addition to nutrient support from vitamins and herbs, lifestyle factors to support stress including proper nutrition, exercise and sleep can help ensure a reduction of uncomfortable symptoms.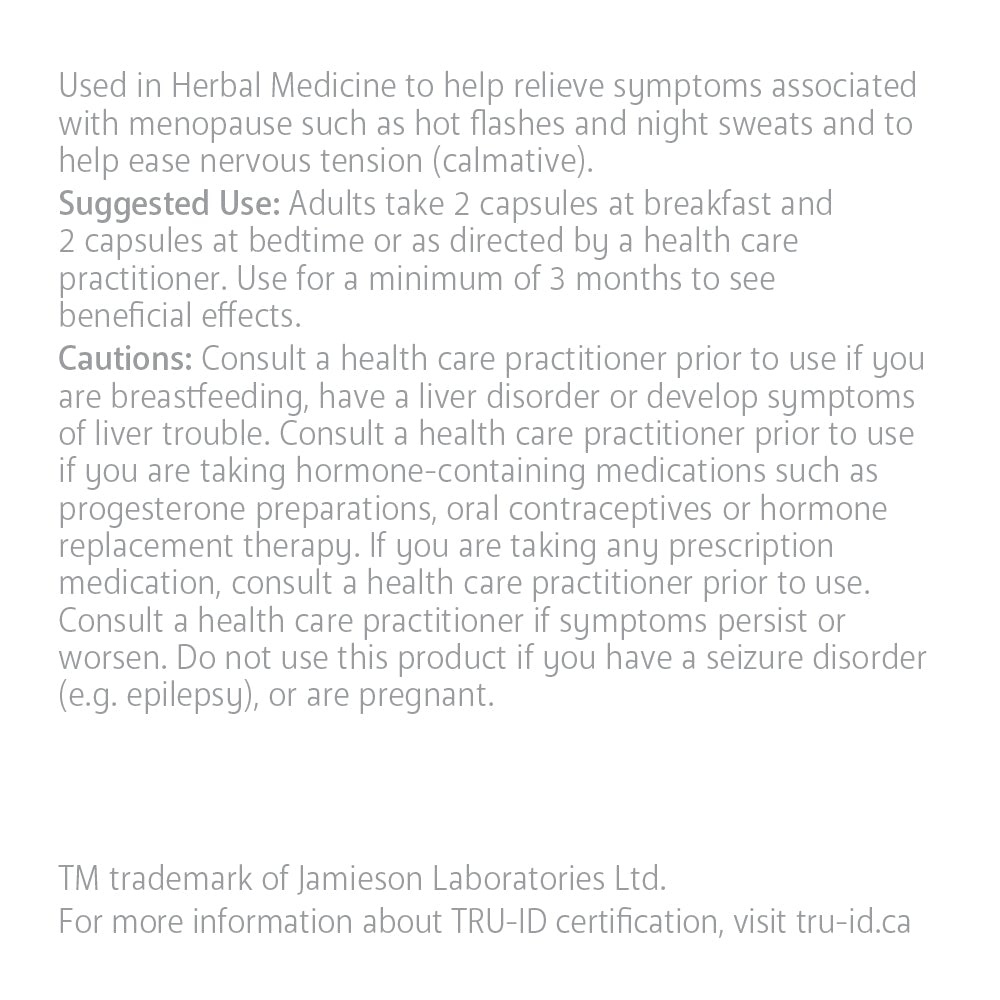 EACH CAPSULE CONTAINS:
| | |
| --- | --- |
| Hesperidin (Citrus sinensis, Fruit) | 30 mg |
| Black Cohosh Extract (Actea racemosa, Root and Rhizome), 2.5% Triterpene glycosides | 80 mg |
| Dong Quai 4:1 Extract (Angelica sinensis, Root) | 100 mg |
| Sage (Salvia oficinalis, Leaf) | 75 mg |
| Chasteberry Extract (Vitex agnus-castus, Fruit), 0.6% Aucubin | 80 mg |
| Gamma-Oryzanol (Oryza sativa, Seed Bran) | 75 mg |
Non-Medicinal Ingredients:
Capsule (vegetable cellulose), microcrystalline cellulose, magnesium stearate.
NO GMOs, WHEAT, SOY, GLUTEN, ARTIFICIAL PRESERVATIVES OR SWEETENERS.
Free delivery

Digital assistance

Quality products

Secured payments